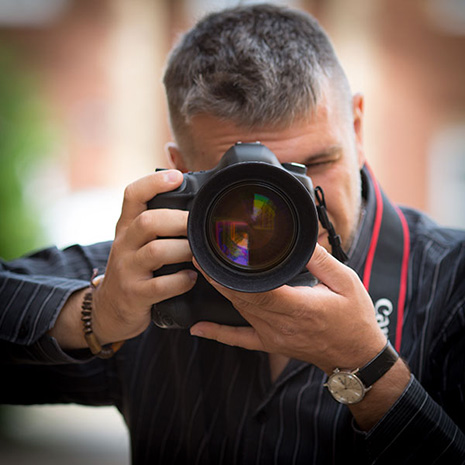 ABOUT ME
My name is Raphael Carpenter and my adventure with photography started when I was 7 and has been ongoing ever since. I am primarily self-taught and am always trying to find my own way to achieve the same results as other professionals in the industry. I met a lot of people, couples and singles, and have been to wonderful weddings, unforgettable places...
The knowledge I gained from those experiences is immeasurable. I have done many types of photography over the years including nature or macro, though, I can say with certainty my passion for this work comes from peoples personalities, moods and feelings.
Those powerful and intangible things that elicit emotion and reaction from the viewer. The things that separate snapshots from photographs; things that appeal to more than our sense of sight and encapsulate a feeling to open later and re-experience to share with loved ones.
My photography philosophy
I believe that in hiring a professional wedding photographer, clients deserve a professional that is able to use his or her technological expertise and creative vision to create a product that clients and amateur photographers could not on their own. With digital SLR cameras becoming more and more affordable, there are many amateur photographers out there posing as professionals. My goal is to educate our clients on the differences, and provide artistic imagery that far surpasses other first-rate wedding photography studios. Being able to quickly adjust camera settings, anticipate lenses needed for each scene, use on and off-camera lighting techniques, etc are crucial to being able to consistantly create a professional product. Therefore, my wedding photography philosophy has three primary parts as follows:
FAQ
- Why hire a professional wedding photographer?
With months of careful planning and organization to create your perfect wedding, it would be a shame to let that memory fade away, without professional documentation of that day. Your wedding photographer is also qualified to help and advise you on all the details of the big event. With close contacts and working relationships with a variety of local wedding vendors, churches, venues, and so forth, your photographer is a wealth of information. Choosing a professional photographer is perhaps the most important decision you'll have to make when planning your wedding.
- Why should we hire Raphael Carpenter?
I always value my clients and their photographic needs. I will arrange a pre-wedding meeting to discuss your wedding day and help determine the amount of time you will need for your wedding day. I allow you to inspect samples of my albums and my previous work. This meeting also gives us a chance to get to know your personal styles, wants and needs, which will enable me to create excellent photographs. After the initial meeting I'm available to answer any questions, and am open to working closely with the client every step of the way. I'm truly delighted when a couple chooses me as their wedding photographers. I bring years of experience and creative excellence to the job, I ensure that every important moment is captured in beautiful and breathtaking images.
- Do you travel for destination weddings?
Destination weddings are always a treat for me. Although I love our beautiful and vibrant city of London, I love to travel and photograph new and exotic locations and am well equipped for any destination. I do require that transportation and accommodations are covered by the bride and groom for me and my assistant, however there are special reduced rates for those wanting photographic services abroad.
- Are you familiar with ethnic wedding ceremonies?
I am extremely fortunate to be photographer in one of the most multi-ethnic, multi-cultural and multi-religious countries in the world. I am extremely knowledgeable and familiar with Indian, Pakistani, Sikh, Muslim, Bengali, Gujarati, English, Arabic, Iranian, Kurdish, Libyan, Moroccan and also Registered Marriages.
- How many cameras do you use and do you bring back-up equipment?
As the main photographer I always bring two camera bodies and a number of lenses, flashes, batteries, memory cards, etc. The assistant photographer will also have one or two camera bodies on them at all times. I'm always prepared for emergency situations and for equipment failure.
- How many pictures to you typically take for each wedding and how many will be edited?
All photographs given to you by Raphael Photography will be edited. Each individual photo will be colour corrected and ready for print. Depending on the photographic package you choose, I do include a number of post-processed photos in a separate folder. These photos are processed further into images that are b-w, sepia tone, cross-processed, etc Typically for a 8 hours wedding, I will usually take between 400 to 800 photos, of which you will receive.
- Who chooses the photos for the wedding album?
A wedding album consultation will be set up approximately 8 to 10 weeks after your wedding date. Depending on the package, we will pre-design a number of album pages for you to select from. Raphael Photography retains all creative control over album layout and designs.
- How long does it take to get our photos and the wedding album?
All photos on CD/DVD/USB will be given to you along with the printed album approximately 4 to 6 weeks after the wedding album consultation.
- Are we able to add additional hours to the photography coverage on the wedding day?
Yes, you may wish to extend the shooting time on the day of the wedding. There is an additional fee of £ 20 per hour (£ 50 per hour in case of discounted price agreed) and we must have verbal consent from both the bride and groom.
- Do you have professional liability insurance?
Yes, NICE-SHOT Photography is UK registered company, and I am covered by full professional indemnity insurance.
- What happens if you are ill on the day of the wedding?
I know how absolutely important your wedding day is. In the extremely unlikely event that I cannot make it, I will make arrangements for another documentary wedding photographer (my wife or one of my assistant) to take my place.
- How can we book you?
Contact me, mentioning the expected date of your wedding and a little bit about your requirements. If I am available on that I'll send you a quote. We can discuss this on the phone or by email. If you are then wish to proceed, you will pay a £100 booking fee. We will then set a date for an initial consultation where we will meet in person and go over your day-plan in detail. It's possible to combine this consultation with a 1 hour engagement shoot if you wish.
- How and when we have to pay a Booking Fee Deposit and outstanding balance?
I offer flexible payment options (PayPal, Bank Transfer). The rest of agreed amount has to be paid max 14 days before the event.